onlie website michelinpowerone.com
Malgré son retrait du MotoGP, Michelin ne chôme pas. Le pneumaticien clermontois s'apprête à commercialiser, question de jours, une nouvelle gamme de pneus racing nommée Power One.Destinée à succéder au Power Race, cette famille devrait compter un ensemble de gommes 100 % racing, destiné à un usage exclusif sur piste, ainsi que plusieurs références homologuées pour la route.

Le tout nouveau pneu Michelin Power One, un pneu qui utilise la
technologie Bi-gomme 2CT issue directement du MotoGP. C'est celui le plus
demandé par les pilotes pour la rue et pour les journées de piste. Il vous
donnera un niveau de performance très près de ceux utilisés en
championnat du monde.
• Pneu légal pour la route avec une semelle 95% lisse
• Nouveau composé de caoutchouc qui se réchauffe plus vite et qui a plus
d'adhérence sur chaussée mouillée comparé à ses prédécesseurs
Power One - can be used also on the road.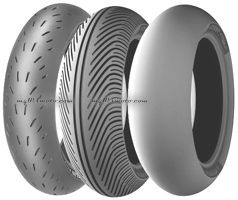 120/60zr17 (55w) tl Power One
120/70zr17 (58w) tl Power One

160/60zr17 (69w) tl Power One
180/55zr17 (73w) tl Power One
190/50zr17 (73w) tl Power One
190/55zr17 (75w) tl Power One
Power One A/B/C/Rain - NHS - just for race tracks
110/70zr17 (54w) tl Power One A
120/70zr17 58w tl Power One A
120/70zr17 58w tl Power One B

150/60zr17 66w tl Power One A
150/60zr17 66w tl Power One B

160/60zr17 69w tl Power One A
160/60zr17 69w tl Power One B

180/55zr17 73w tl Power One A
180/55zr17 73w tl Power One B
180/55zr17 73w tl Power One C


190/55zr17 75w tl Power One A
190/55zr17 75w tl Power One B
190/55zr17 75w tl Power One C

12/60r420 nhs tl Power One A
12/60r420 nhs tl Power One B

19/69r420 nhs tl Power One A
19/69r420 nhs tl Power One B
19/69r420 nhs tl Power One C

12/60r420 nhs tl Power One Rain
19/69r420 nhs tl Power One Rain